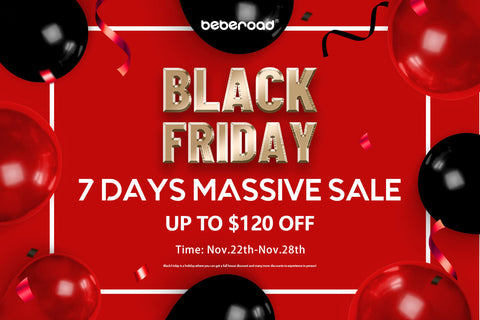 The big sale of early Black Friday promotions will beginning, and Beberoad is sifting through the baby supplies to get more best deals, save your money and worth your time.
We've already seen many OFF SALE from online. And now Beberoad Baby joined, we prepared UP TO $120 big discounts and threw them in your carts.
Black Friday 2021:beberoad foldable baby bathtub
Black Friday 2021:beberoad baby stroller R2
Black Friday 2021:beberoad 5-in-1 kids scooter
The early bird gets the worm.Black Friday doesn't officially begin until November 26, but Beberoad 2021 Blace Friday will ahead of official schedule, starts on November 22, ends on November 28. Throughout the Beberoad Black Friday promotion week, Beberoad early sales may be your best choice for avoiding frustrating stock and shipping issuses from 2021's ongoing product shortages and supply-chain disruptions.
Black Friday 2021:beberoad safety gate
Black Friday 2021:beberoad travel bassinet
Black Friday 2021:beberoad universal mosquito net
Black Friday 2021:beberoad R2 stroller & safety gate
Now we prepared to service you in Black Friday 2021, updated the OFF SALE products in stock, as well as the Black Friday Deals page, SEE YOU LATER in Beberoad Baby Black Friday 2021.Have a nice shopping in Beberoad
Henry from Beberoad